DONBASS, by Sergei LOZNITSA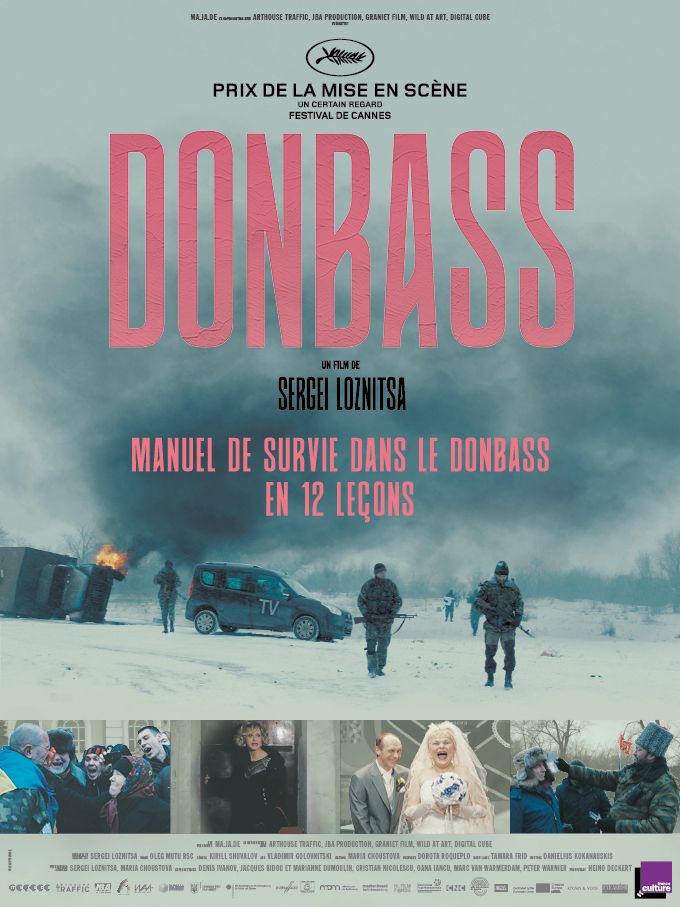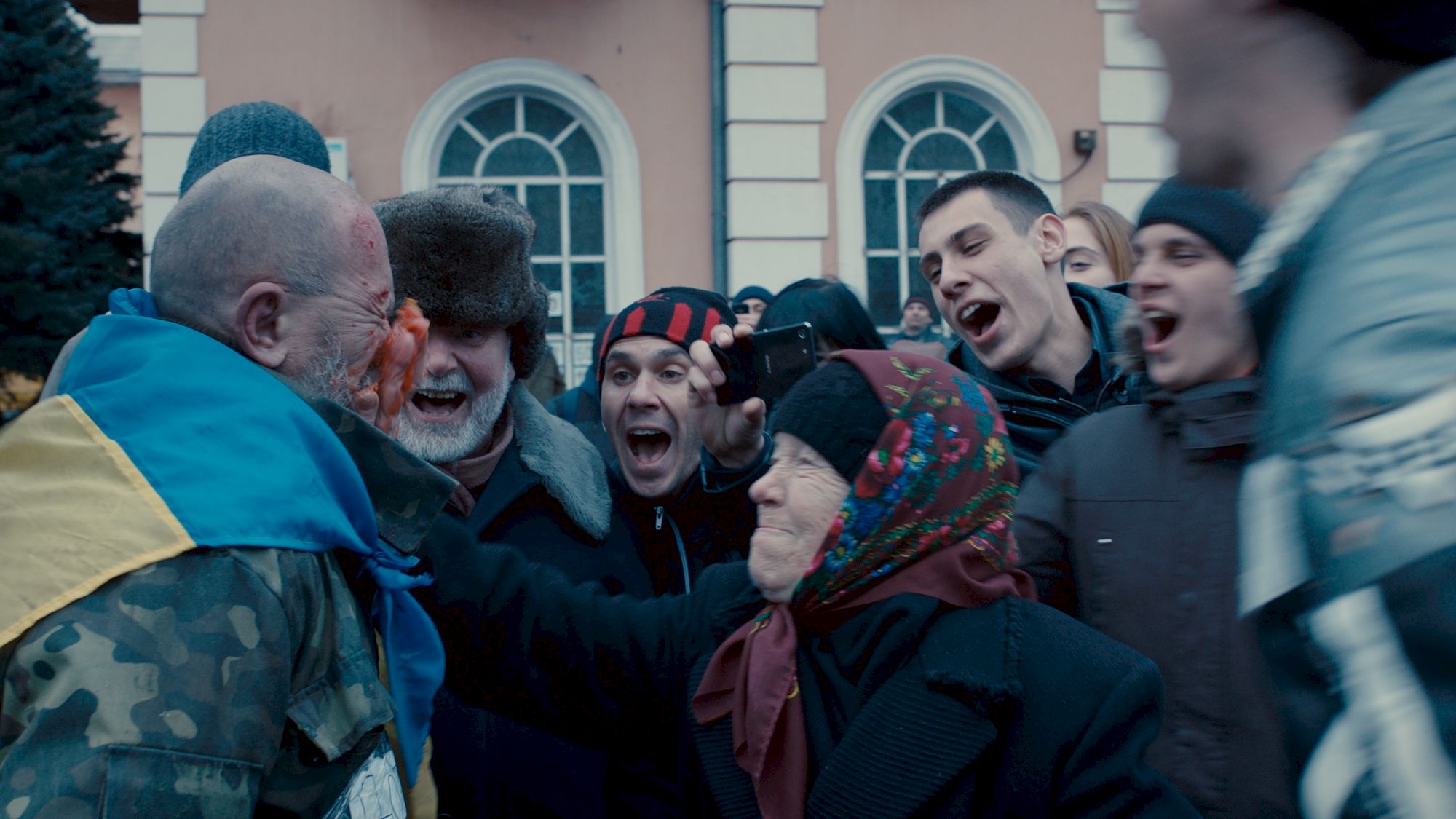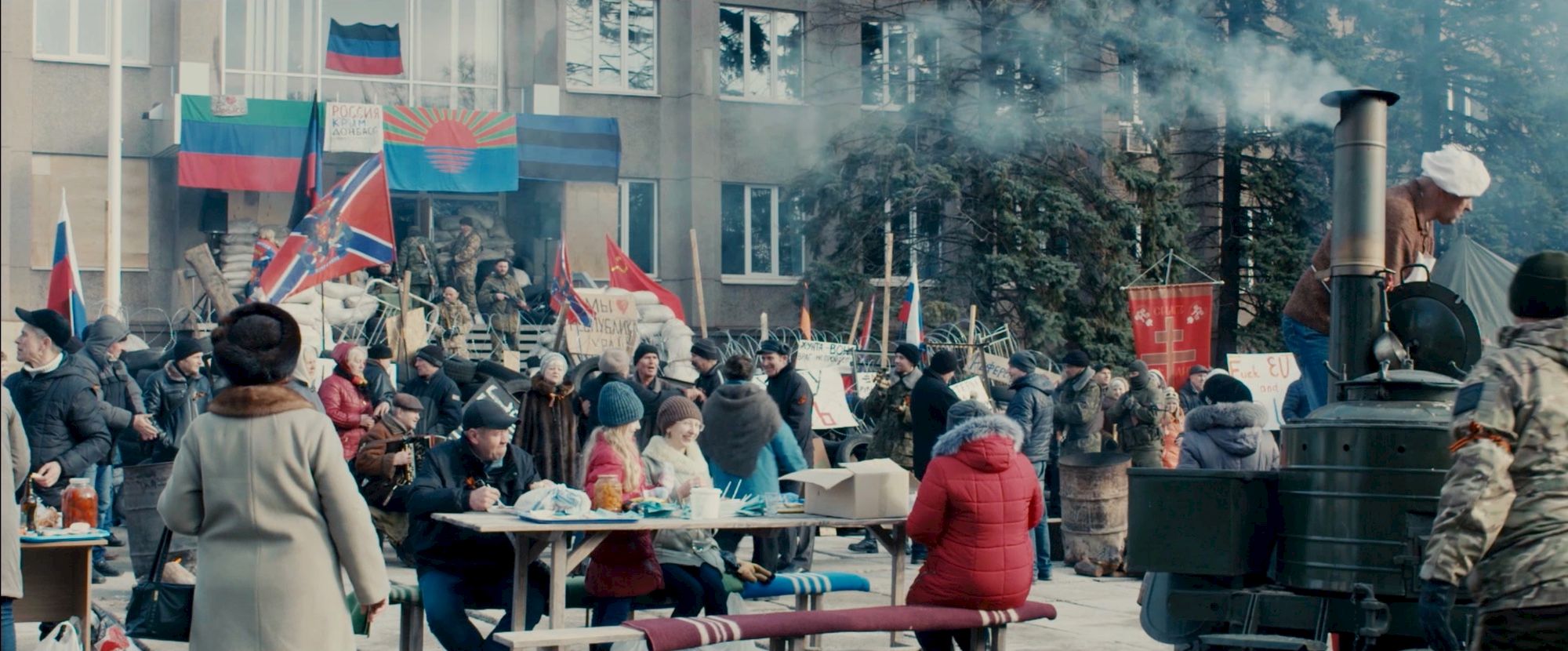 DONBASS, by Sergei LOZNITSA
(A guide for surviving in the Donbass in 12 lessons)
2018
Official selection, Cannes Film Festival, 2018 (Un Certain Regard, Director's Prize).
THE FILM :
Director :                               Sergei Loznitsa
Script :                                   Sergei Loznitsa
Production :                          Ma.ja.de. Fiction (Germany), Arthouse Traffic (Ukraine), JBA Production (France), Graniet Film (Netherlands), Wild at Art (Netherlands), Digital Cube (Romania)
Associate Producer :          Atoms & Void (Netherlands)
Cinematography :                Oleg Mutu
Editing :                                 Danielius Kokanauskis
Sound :                                 Vladimir Golovnitski
2018, Donbass, semi-occupied region of Eastern Ukraine. Actors prepare before going out to act as witnesses of a terrorist attack for (fake?) reporters. Here, war is called peace, lies become the truth and ruthless propaganda is harsh authenticity. The grotesque and the tragic are mixed together and alternate truths are the foundation of the system.
THE DIRECTOR :
Sergei Loznitsa was born on September 5, 1964.
After studying applied mathematics, he studied cinema under Nana Djordjadze at the Moscow National Institute of Cinematography.
His films include the feature films My Joy, In the Fog, A Gentle Creature and Donbass, and the documentary Maidan, all of which were selected for the Cannes Film festival.
CRITICS' REVIEWS :
"Donbass, at once brutally satirical and grimly compassionate, focuses on the subtleties and grotesqueries of human behavior. Loznitsa paints sprawling tableaus of cruelty, corruption, vulgarity and lies through a series of intimate vignettes."
A.O. Scott, New York Times
"Loznitsa has created a freakish kaleidoscope of bizarre scenes and nightmarish vignettes. Here is the horror, the violence, the bureaucracy and the Orwellian propagation of fake news and an eternal war hysteria to nourish patriotism. The scenes are fragments from an explosion of fear."
Peter Bradshaw, The Guardian
"Throughout, we're repeatedly reminded that cameras are violators, as they merely augment the dangerous power of the person wielding them. Donbass's most harrowing elucidation of this theme comes in a scene on a public street, where a Ukrainian loyalist, tied to a telephone pole by a pair of armed separatists, endures a humiliating beating at the hands of a growing mob of passersby, one of whom decides to record the spectacle with his smartphone. (…) Later, the recording gets shown to a hooting crowd of Novorossiya sympathizers at an absurdly overemphatic wedding celebration, assimilating smoothly into the atmosphere of nationalist fervor."
Carsen Lund, Slant Magazin
The trailer:
https://www.youtube.com/watch?v=uZwiz34xpl8
To watch the film:
Amazon.co.uk, Eastern European Movies, Canal VOD, Apple TV, MyCANAL.
Some reviews (in English):
https://www.nytimes.com/2022/04/07/movies/donbass-review.html
https://www.theguardian.com/film/2018/may/10/donbass-review-cannes-2018-sergei-loznitsa
https://www.latimes.com/entertainment-arts/movies/story/2020-11-19/review-donbass-sergei-loznitsa
https://www.slantmagazine.com/film/donbass-review-sergei-loznitsa/
https://theplaylist.net/donbass-review-sergei-loznitsas-bleak-and-brutal-ukraine-set-war-comedy-is-eerily-timed-20220330/
More online (in French):
https://www.telerama.fr/cinema/un-cineaste-au-fond-des-yeux-68-sergei-loznitsa,62400.php
https://www.premiere.fr/Cinema/News-Cinema/Sergei-Loznitsa-L-Ukraine-est-devenue-un-gigantesque-lieu-de-massacre
https://www.liberation.fr/cinema/2010/11/17/sergei-loznitsa-la-science-et-la-fiction_694117/
https://regard-est.com/interview-de-sergei-loznitsa-un-bref-instant-et-lon-comprend-tout
http://www.kinoglaz.fr/a_evenements/Interview_Serguei%20Loznitsa_juin_2018.pdf
https://www.parismatch.com/Culture/Cinema/Guerre-en-Ukraine-le-texte-tres-fort-de-Serguei-Loznitsa-1791560