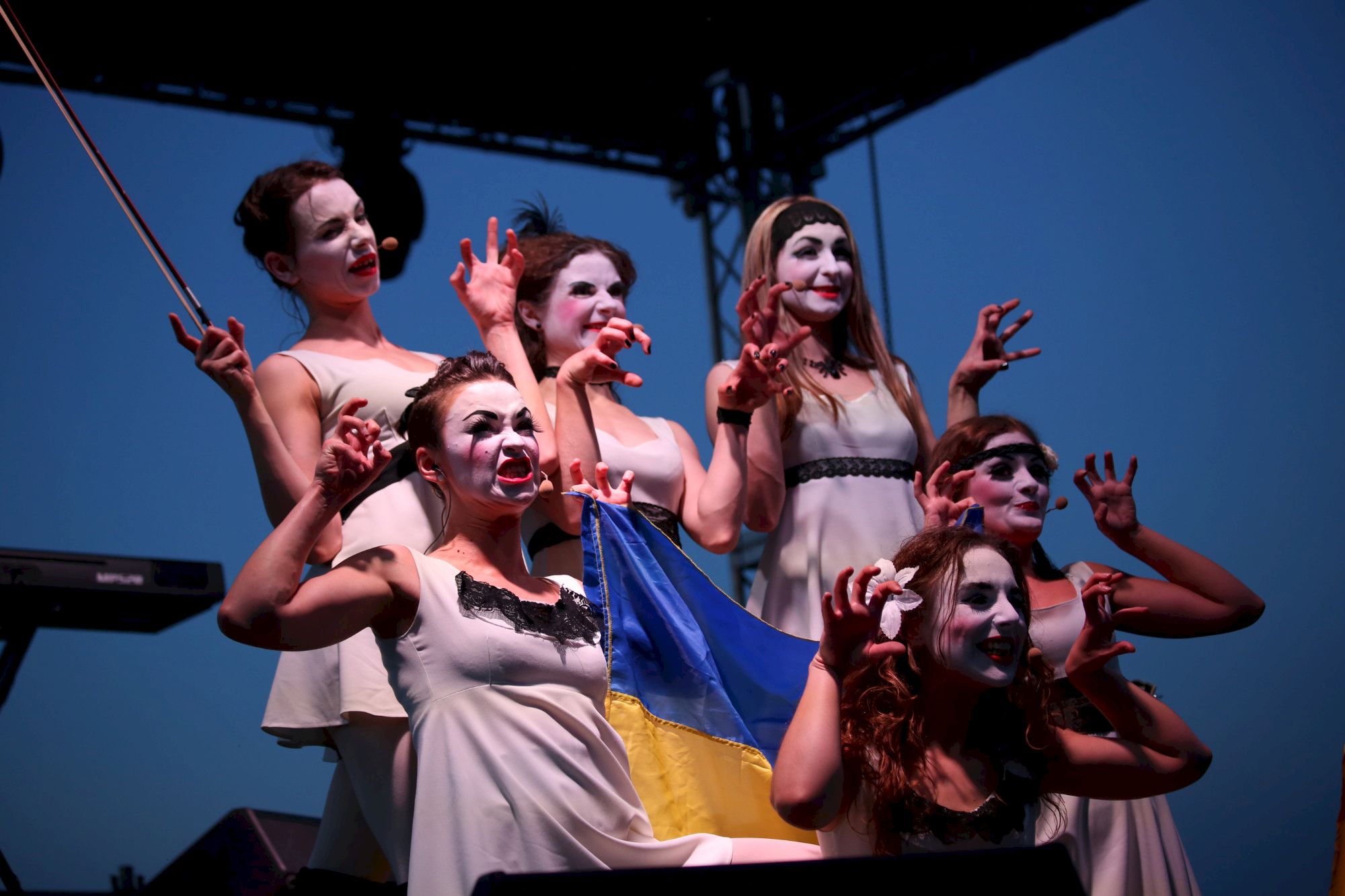 The Dakh Daughters is a group created in 2012 that mixes punk cabaret, rap and traditional Ukrainian music and uses theatre, music and dance as well as circus with the character of the white clown. Most of its members (Nina, Ruslana, Tanya, Solomiia, Anna, Natalia and Natalka) come from the Dakh theatre company in Kyiv and from the group DakhaBrakha which performed at the Transmusicales in 2013. The songs draw on texts by Charles Bukowski, Shakespeare and the Ukrainian poet Taras Shevchenko. Their song, Rozy Donbass, uses Shakespeare's sonnet 35: "No more be grieved at that / which thou hast done / Roses have thorns and silver fountains mud".
The group's political commitment dates back to the Ukrainian revolution. While supporting the Ukrainian people's right to independence and freedom, they continued to perform in Russia to spread a message of peace between the two countries. The group performed in France, at Les Vieilles Charrues in 2014, Bouffes du Nord (Paris), in Avignon in 2015. They perform all over the world. These musicians are less Spice Girls than Pussy Riot according to their artistic director, Vlad Troitsky.
The artist Ruslana Khazipova launched on 2 March 2022 an appeal to the international community to support Ukraine. She also appeared on France Culture on 5 March 2022 to raise awareness of her country's fate.
The Dakh Daughters, who can no longer play in their country because of the war, will perform in France. They will be in Bar-le-Duc on 25 March, in Pont-Audemer on 31 March, in Dieppe on 1 April and in Vire on 2 May.