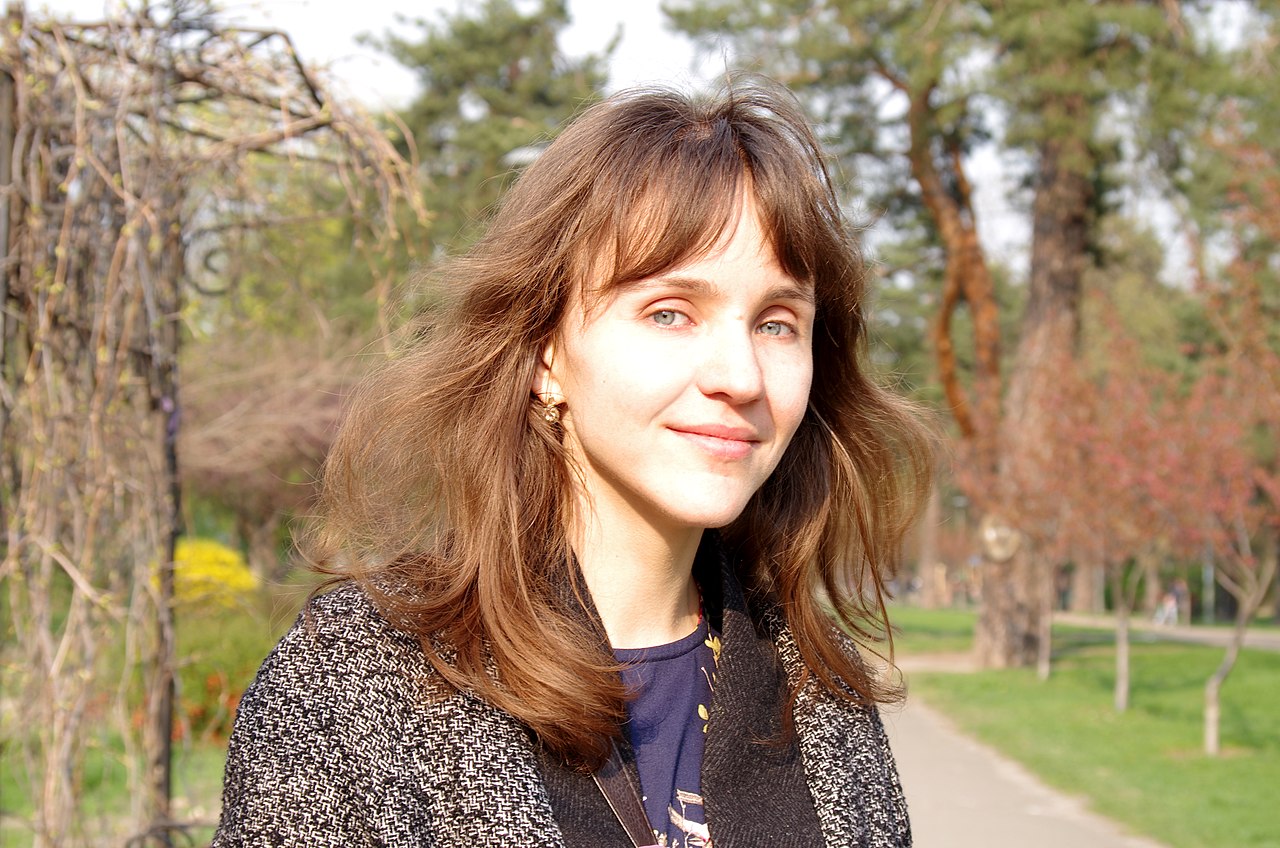 Iya Yanivna Kiva [Ія Янівна Ківа] was born in 1984 in the city of Donetsk. She studied at the National University of Donetsk (DONNU). In the summer of 2014, she fled the separatist conflict raging in the region and settled in Kyiv where she now lives. As a poet, Kiva writes in Ukrainian and Russian, but since the beginning of the war with Russia, she writes only in Ukrainian.
Her poems, criticism and translations have been published in many journals (Studiia, Slovo/Word, Neva, Raduga, Plavuchii most, Novaia yunost, Novyi mir, Belyi voron, Kreshchatik, Oktiabr, Interpoezia, Poem, Po&sie) and on many poetry websites such as ArtPapier, Litcentr, Literratura, Polutona.
Kiva has received awards at many international and Ukrainian poetry festivals, including the international festival Konstantin Romanov (Saint Petersburg, 2013, 2014), le International Festival of Slavic Literature and Culture (2013), the literary competition Yuri Kaplan (2013), and the international festival The Emigrant Lyre (Emigrantskaia Lyra) (2016). She was a winner at the literary competition of the Smoloskyp publishing house (2018, 4th prize). She won the Nestor the Chronicler award (2019) and the Metaphora Translation Prize (2020). [5]
Her poetry collection, Подальше от рая (Further from Paradise) was included among the best books of 2018 by the Ukrainian PEN. [6] Another collection, Перша сторінка зими (The First Page of Winter), received a special award from the judges of the "ЛітАкцент-2019" (LitAccent-2019) Prize [7] and was included in the list of the best books of 2019. [8]Ми прокинемось іншими ("We will wake up to others") was among the non-fiction essays noted by Kyiv's online cultural journal, The Village Ukraine [9] and included among the best books of 2021 by the Ukrainian PEN. [10]
Her poems have been translated into several languages, including English, [2] [3] and her essays have been translated into German. She received a scholarship from the Polish Ministry of Culture's Gaude Polonia (2021) and participated in a literary residency "Gnizdo" in the village of Vytachiv near Kyiv (2022). As translator, Kiva has participated in the international translation seminars "Cities of digital translators", in the German translation fund TOLEDO-Mobilitätsfonds, with support from the German Ministry of Foreign (online, 2020) and "Tłumacze bez granic" ("Translators without borders", 2021, in Wojnowice, Poland. She translated Maria Galina's novel Avtokhtony (Autochtones) into Ukrainian.
At the beginning of March 2022, she participated in an online poetry conference organized by two Ukrainian poets, Olga Livshin and Julia Kolchinsky Dasbach. The Polish translator and poet Alicja Rosé, who was invited to the conference, was impressed by Kiva's poetry and her irony in the face of disaster. Her response created a poetic dialogue, translated into French by Isabelle Macor (En Attendant Nadeau, "dans le fracas des bombes," Jean-Yves Potel, March 31, 2022).